The Viet Nam Shipbuilding Industry Corporation (Vinashin) has decided to not participate in a joint-venture with South Korean shipbuilder Posco to build a steel mill in Van Phong Bay, 100 km north of Nha Trang.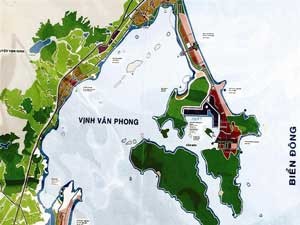 Van Phong Bay on a map
The mill was projected to cost US$4 billion, with Vinashin contributing US$1 billion, said Mr. Pham Thanh Binh, chairman of the Vinashin. Mr. Binh noted that Vinashin has decided not to invest in any projects that do not fit with its major business.  
Two other Vinashin projects were confirmed. They are the building of Hon La Port in Quang Binh Province and building of a headquarters for the Commercial and Industrial Bank of Viet Nam.  
The government recently released a directive to slow down the rate of inflation. In response, Vinashin suspended or slowed down spending on 40 projects with a total projected cost of VND6.5 trillion (US$390 million). These projects include ship building, developing support industries, and developing the marine industry.  
The money saved will be spent on building the big-load cargo ships favored by the export industry.