The People's Committee of Vinh Long Province is encouraging and creating favourable conditions for local firms to develop sweet potato processing units, after farmers were let down by Chinese traders who abruptly refused to buy back their Japanese sweet potato crop.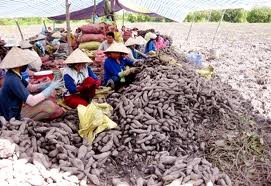 Farmers harvest Japanese sweet potatoes. (Photo: SGGP)
According to Nguyen Hoang Hoc, head of People's Committee of Vinh Long Province, latest statistics show that Vinh Long has 9,225 hectares under sweet potato cultivation, of which the Japanese sweet potato cultivation covers 70 per cent of the area.
Up to now, farmers in Binh Tan and Binh Minh Districts have harvested 3,400 hectares and the rest will be harvested in the near future.
While other local sweet potato varieties were bought at VND220,000-360,000 per quintal, ensuring profits for growers, the price of Japanese sweet potatoes dropped to around VND160,000-170,000 per quintal in the Mekong Delta provinces on May 23, the lowest ever in the past few years.
Thus, several Japanese sweet potato growers were whining after suffering losses. Earlier, Chinese traders had offered high prices for Japanese sweet potato crops, luring several farmers to switch from rice, despite warnings from local authorities.
Local authorities are now seeking solutions to ease farmers' woes such as looking for consumer markets in and outside the country for sweet potatoes. They are also discouraging farmers from expanding sweet potato growing area, especially for the purple variety, so as to reduce dependency on Chinese traders and because Vietnamese people favour sweet potato of the white or beige flesh variety more than the Japanese purple variety.