The central bank has lifted a ban on gold imports to curb speculation and stabilize the market after prices rose sharply, permitting five or six companies to import a volume sufficient to intervene in the market.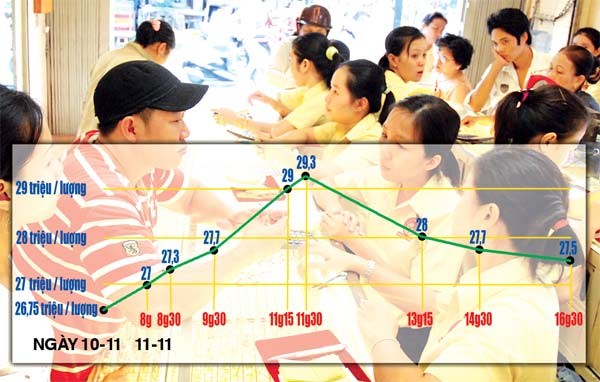 Gold prices in million dong on November 10-11. The State Bank of Vietnam has lifted a ban on imports of the metal after domestic prices shot well ahead of global rates (Photo and graph: SGGP)
Speaking exclusively to Saigon Giai Phong on November 11, State Bank of Vietnam Governor Nguyen Van Giau said prices rose relentlessly in Vietnam due to a hike in world prices.
 
Besides, local speculators have taken advantage of unstable global prices to push prices to very high levels, he said. Vietnamese prices rose to a few million dong higher than global prices.
 
But he said the bank is only allowing the import to calm the market and not because of any shortage of the metal. The country has plenty of gold, he assured.
 
The importers have already mobilized foreign currencies and do not have to buy from the market, he said, explaining there is no cap on the volume they can import.
 
The decision to allow import of the metal is an economic measure and the Ministry of Industry and Trade should take strong measures to manage the market, Mr. Giau said.
 
Prices went down late in the afternoon on November 11 after the ban on gold imports was been lifted for the first time since the middle of 2008.
 
The price of a tael, or 37.5 grams, fell to VND27.5 million, VND1.8 million down from the peak price.
 
Meanwhile, globally gold fluctuated within a range of just US$2 an ounce in the last two days.