The International Finance Corporation (IFC), the World Bank's private sector arm, on July 21 received an advisory mandate from the Vietnamese Government to mobilize the private sector's participation in electricity generation.
Accordingly, an independent power producer will develop a pilot transaction on a build-own-transfer scheme. The pilot transaction, which will soon be jointly identified by IFC and the Ministry of Industry, will serve to catalyze Viet Nam's US$3 billion annual power generation program.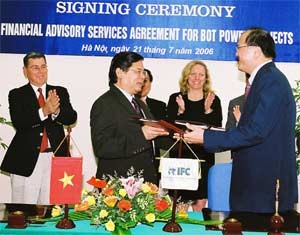 Representatives of IFC and the Ministry of Industry finish the signing in Ha Noi. (Photo: Courtesy of IFC)
"IFC is delighted to be working alongside the Ministry of Industry to encourage private investors to help meet the power demand," Mr. Bernie Sheahan, director of the IFC Advisory Services Department, said at the signing ceremony in Ha Noi.
The Ministry of Industry is committed to increasing private investment in the power sector as part of a broader strategy to meet Viet Nam's rapidly growing demand for electricity.
This mandate will allow IFC to help the Vietnamese government establish a more efficient and effective structure that can offer a model for the demand increases.
"IFC is the right partner to work with us to establish a pilot transaction according to international practices," said Mr. Nguyen Manh Hung, deputy director of the ministry's Energy and Petroleum Department and also the chairman of the Independent Power Projects Management Board.
The IFC advisory work on the project will be carried out in three phases, said Mr. Sanjay Grewal, manager for IFC Advisory Services in Asia. During the strategic phase IFC will work with the Ministry of Industry to establish a transaction structure.
In the structuring phase IFC will supervise drafting of the contractual and bidding documents and lead in marketing the project to potential bidders. Finally, IFC will assist in the evaluation of competitive proposals and negotiations with bidders through the award of the projects, according to Mr. Grewal.
VN to buy more electricity from China
The Electricity of Viet Nam (EVN) Corporation is working out a project to buy an additional 200MW of electricity from China's Yunnan Province. The project will be carried out between 2007 and 2010.
EVN had earlier signed contracts to buy 160MW of electricity from China.
EVN sells out VND900 billion bonds
Bonds issued by EVN totally worth VND900 billion (over US$56 million) were sold out on July 20, said Dang Phan Truong, head of the EVN Department of Equitization and Securities.
EVN, which is seeking more capital to increase its power supply, plans to issue an additional of VND1,850 billion (almost US$116 million) worth of bond this August.
Link
IFC