The first desalinator built in Vietnam was exported to the United Arab Emirates (UAE) from the central province of Quang Ngai November 13.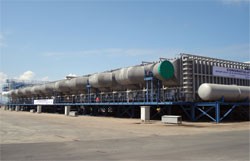 The first Vietnam-made desalinization machine to be exported to UAE (Photo: Thanh Nien)
The 4,000 ton machine, made by the South Korean company Doosan Vina at Dung Quat Economic Zone, will help process seawater into drinking water.
After installation in the desert area, some 60 kilometers west of Abu Dhabi, it will produce 450 million liters of drinking water a day to meet the demands of 900,000 people in the Middle East desert area.
The machine is 10.6 meters high, 29.2 meter wide and 100.4 meters long.
 
Doosan Vina is a subsidiary of the Doosan Group, a leader in freshwater technologies. The group's desalinization device accounts for 46 percent of the global market.