The Southern Food Corporation (SFC) has established a joint stock company with two Cambodian firms to produce and export rice, said Chairman of the Vietnam Food Association Truong Thanh Phong.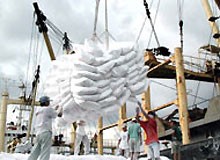 Rice uploaded for export at a port in Vietnam
The new joint venture, called the Vietnam-Cambodia Food Joint Stock Company (Cavifoods), is headquartered in Phnom Penh.
The company has a chartered capital of US$8 million, with 37 percent owned by SFC, 30 percent by the Green Trade Company, and 33 percent by the Cambodian Investment and Development Company.
Cavifoods' operations include producing, processing, storing and exporting rice.
The area of paddy farms in Cambodia is equivalent to that in Vietnam. In the past, merchants bought much rice, especially aromatic rice, from Cambodia to export, said Chairman Phong, adding that the joint venture in rice production and export has been approved by both countries' governments.
At present, the company is building a processing factory, a warehouse, an instance noodle mill, a bread mill, and a network for purchasing rice.