Viet Nam's gold consumption in the second quarter reached 14.5 tonnes, down 23 per cent in comparison with the first quarter, according to a report on gold trends released recently by the World Gold Council.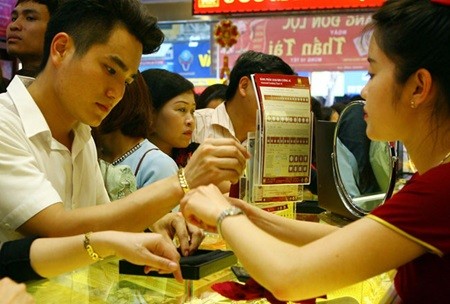 Customers buy gold at a shop of Bao Tin-Minh Chau Jewellery Company in Tran Nhan Tong Street, Ha Noi. (Photo: VNA/VNS)
Of the total volume, gold bars accounted for 10.8 tonnes, down 25 per cent quarter-on-quarter, while jewelry made up the remainder, though also down 16 per cent.
Total gold consumption in Viet Nam in the first six months of 2015 reached 33.3 tonnes, equivalent to 48 per cent of the figure from the same period last year. The reduction was attributed to the gap between domestic and international gold prices, at a high rate of between US$100 to $150 per ounce.
Nguyen Cong Tuong, deputy sales manager of Saigon Jewelry Company (SJC), told Thoi bao Kinh te Saigon (Saigon Economic Times) that demand for gold remained weak, but China's recent yuan devaluation had prompted people to scramble for gold in anticipation of higher prices, thus leading demand to surge around 20 per cent.
SJC's sales amounted to a maximum of about 1,000 taels per day, while normal volume was hundreds of taels per day, he said. In previous years, the firm saw an average buying volume of around 2,000 taels per day.
In decline?
Further, a banker told the newspaper that customers had purchased less gold in the past, as the price was mostly in decline. The price of gold only recently increased after China's yuan was depreciated. Also, investors were hesitant to buy gold, as price movements are hard to predict.
Notably, jewelry consumption in quarter two dropped against quarter one, but was up 22 per cent year-on-year, and the total sales volume in the first six months of 2015 was equivalent to 63.5 per cent of that in 2016, according to the report.
Lower prices triggered buying interest and improved GDP growth – a boon to consumer sentiment – which offered further support, the report said.
Viet Nam's gold consumption increased to 97 tonnes in 2013 when the central bank decided to import gold and sell it to banks via tenders. Banks were then required to stop gold mobilisation and lending. Gold tenders ended last year, resulting in the end of official gold imports.
However, Viet Nam still consumed some 69.1 tonnes of gold last year and about 33 tonnes in the first half of this year.
According to the State Bank of Viet Nam, it will sell gold through tenders to stabilise the market, if needed. But it has not intervened in the gold market in the recent past, as gold demand has been insignificant.
The buying/selling price of SJC gold went up by VND470,000 ($20.9) to VND34.4/35.3 million ($1,531-1,571) per tael yesterday. One tael is equivalent to 1.2 ounces.
The world price also continued increasing, reaching $1,152.4 per ounces the same day.
According to the World Gold Council, gold demand is calculated based upon the total volume of gold and jewelry consumed in a country, or the total gold volume that individuals buy directly.
The global demand for gold declined to 914.9 tonnes in the second quarter – a 12 per cent year-on-year drop – as consumers faced a number of challenges, according to the report.