PetroVietnam Fertilizer & Chemicals Corporation (PVFCCo), a major fertilizer manufacturer in Vietnam, announced Saturday plans to expand its agricultural technical transfer programs for Cambodian farmers in at least three more provinces over the coming year.

"In 2011, PVFCCo intends to maintain its leading position in the domestic market while expanding its activities abroad. In Cambodia, we are particularly keen to continue implementing our programs while improving our image and position in the local market," said Mr. Nguyen Hong Vinh, PVFCCo's vice president for sales and distribution.

He was speaking at an announcement ceremony in the Cambodian capital Phnom Penh.

The manufacturer, which shares almost 50 percent of the domestic demand for urea, opened its Phnom Penh representative office in May last year.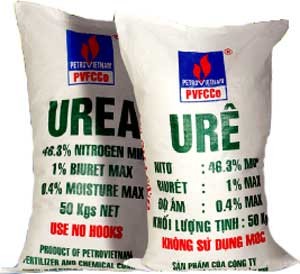 File photo of PVFCCo's urea fertilizer
PVFCCo has since then launched agricultural technical transfer programs for local rice farmers. Numerous workshops have been held and demonstration plots established in several provinces such as Battambang, Kompong Chhnang and Takeo.

Mr. Vinh said PVFCCo would continue to expand such technical transfer programs to farmers in Kompong Cham, Kompong Thom and Kandal provinces.

"Besides the domestic market, PVFCCo has been trying to establish positions in other regional countries. Cambodia is our top priority thanks to its close geographic location, economic structure and cultural attitudes," he added.

In addition to training Cambodian farmers, PVFCCo donated 50 tons of urea to poor farmers in Svay Rieng and Prey Veng provinces last year. The company also donated US$25,000 to the families of victims of the Diamond Island Bridge stampede tragedy last November that killed almost 350 people.

PVFCCo enjoyed a successful year in 2010 with impressive business results.

At its annual meeting of shareholders in HCM City on April 8, the company announced an after-tax profit of 1,703 billion dong (US$82 million) for 2010 which was 84 percent higher than forecast by the company. Sales came to 6,999 billion dong (US$337 million) in the same period. During the year, PVFCCo produced 807,000 tons of urea which was 9 percent above the company's forecast and more than 10 percent higher than average production in recent years.