Three investment promotion conferences have taken place in the Japanese cities of Tokyo, Nagoya and Kanazawa as part of Viet Nam's efforts to draw more investment from small to medium sized Japanese companies.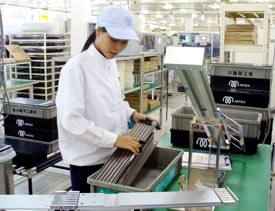 Microelectronics production at the Japanese corporation NIDEC in HCMC (Photo: T.K.)
A delegation from the Ministry of Planning and Investment (MPI), headed by Deputy Minister Nguyen Bich Dat, attended the conferences which were jointly organized by the MPI, the Vietnamese Embassy in Japan and the ASEAN-Japan Center to introduce Viet Nam's excellent investment environment.
Mr. Dat said along with bigger corporations, Viet Nam hopes that small to medium sized Japanese companies will invest in high technology, information technology, electronics, microelectronics, biotechnology and new material production in Viet Nam.
 
At the conferences, the Deputy Minister briefed participants on an initiative to boost economic cooperation between Viet Nam and Singapore, which is geared to attract more investment from third party countries, particularly Japan.
 
One year after implementation of the program, a number of projects have been licensed, including one by the Sumitomo Chemical Company. More ventures are expected in the near future.