The Vietnam Aircraft Leasing Company (VALC) has recently taken delivery of the first of five ATR 72-500 aircrafts under a contract between the company and France's Avion de Transport Regional (ATR).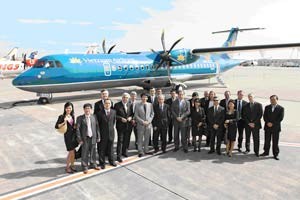 An ATR 72-500 aircraft at the Toulouse airport, France (Photo: SGGP)

After receiving the plane, VALC transferred it to the Vietnam Airlines Corporation (VAC) following a leasing contract between them.

The other four ATR 72-500 airplanes are to be delivered in June, September, October and December.

The ATR 72-500 is one of the most recent developments of the ATR 72 manufactured by ATR.

Over the past 20 years, VAC has successfully used ATR 72 planes in passenger transport on its domestic routes.

Besides these planes, VALC said it would purchase ten Airbus A321-200 and eight Boeing B787 aircraft, which will cost US$2.5 billion in total.