Vietnamese businesses are seeing significant pressure after the Government started allowing foreign investors to open wholly-owned retail companies in January, said Nguyen Minh Phong of the Ha Noi Socio-Economic Development Research Institute.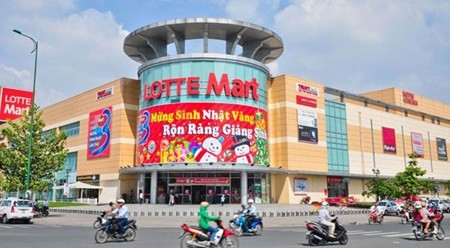 The facade of the Lotte Mart in central Da Nang City. Vietnamese retailers are facing increasing competition pressure from foreign businesses after the Government allowed wholly-owned foreign firms to open in Viet Nam last month under free trade obligations. — Photo courtersy baodanang.vn
Free trade agreements have forced members to accelerate the process of cutting taxes on foreign trade in the region.
Since 2010, the ASEAN-6, comprising Brunei, Indonesia, Malaysia, the Philippines, Singapore and Thailand, have eliminated 99.4 per cent of the taxes ASEAN wants slashed.
Viet Nam had eliminated 72 per cent of foreign trade taxes by 2014, and roughly 90 per cent were cut by January 1, 2015. ASEAN will lift all duties starting in 2018.
Many corporations such as Hachi-Hachi, Diaso, Tokyo Mart and Tokyo Shop have been established, taking advantage of the new trade opportunities created by reduced taxes.
Japan's Aeon Group opened two supermarkets in HCM City and Binh Duong Province last year, and plans to open one more facility in Ha Noi this year. These facilities provide goods that are also produced by local enterprises.
South Korea's Lotte is proving its brand name with trade, office and residential complexes in favourable positions in the capital, while Thailand's merger and acquisition (M&A) activities are booming in different areas of the domestic market.
Thailand's Berli Jucker is expected to complete an M&A deal involving distribution in Viet Nam, worth about US$879 million. It would take over 19 Metro Cash & Carry facilities in Viet Nam.
The Central Group from Thailand has also opened Robins shopping centres in Ha Noi and HCM City.
Thailand's M&A portfolios in Viet Nam vary from the retail sector – Thai An, Cellox and Ichiban – to food companies like Vinamilk and Sabeco. They also include industrial firms such as Siam Cement Group and Binh Minh Plastic.
Thailand has more than 300 investment projects in Viet Nam with a total registered capital of nearly $6.5 billion. Its electronic goods make up about 70 per cent of the domestic market. Its fruit accounts for 40 per cent.
Phong said foreign firms' activities benefit both dealers and consumers, as they foster the restructuring of domestic trade through fierce competition.
He said that like businesses in the Philippines, Singapore, Thailand and Indonesia, Vietnamese firms tend to take the leading role in the domestic market, with their deeper understanding of domestic culture and lower production costs.
Many domestic enterprises have formed new business systems despite disadvantages in capital and experience.
For example, Vingroup has acquired 70 per cent of the Ocean Retail Company and opened supermarkets and convenient stores in Ha Noi. It commenced a plan to establish a chain of 100 Vinmart supermarkets and 1,000 Vinmart convenient stores nationwide in the next three years.
On January 1, the Hiway Viet Nam Joint Stock Company announced a change in brand name recognition from Hiway SupperCenter to SapoMart. It aims to become one of the top retailers in Viet Nam.
Phong said domestic retailers should actively adjust markets, technology and business strategies to promote competitiveness in this new environment. Improving the quality of goods and services, enhancing social responsibility and gaining consumer confidence are keys to success for any enterprise, he said.