The Korea Trade-Investment Promotion Agency (KOTRA) inaugurated the Viet Nam-Korea Free Trade Agreement (VKFTA) Support Centre in Ha Noi yesterday, aiming at disseminating areas related to the FTA as well as supporting businesses of the two countries to make use of the FTA, which came into effect on December 20, 2015, to boost commercial transaction and investment.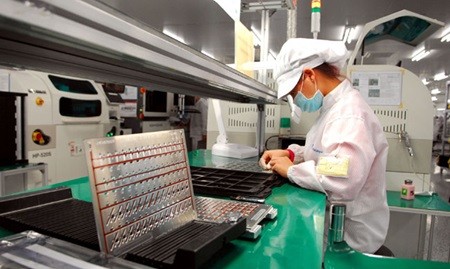 An employee works on an electronic spare parts production line at Synopex Viet Nam Co., Ltd, funded by South Korea, in Ha Noi's Quang Minh Industrial Zone. The Viet Nam-Korea Free Trade Agreement Support Centre opened in Ha Noi yesterday. — VNA/VNS Photo Danh Lam
The VKFTA covers many areas including certificate of origin, trade protection, hygiene and food safety, and plant quarantine, apart from technical barriers to trade and service, investment, intellectual property, competition and other legal issues.
The centre will consult and provide accurate and detailed information on FTA for businesses and help them solve difficulties related to non-tariff barrier and granting of certificate of origin.
Speaking at the opening ceremony, Deputy Minister of Industry and Trade Do Thang Hai said VKFTA had opened opportunities to embrace economic co-operation and investment in the two countries.
In the last 10 years, trade turnover between Viet Nam and South Korea reached an average growth rate of 23 per cent per year. In 2015, South Korea continued to be one of the three biggest trade partners of Viet Nam with a bilateral trade turnover of US$34.3 billion, more than 29 per cent higher than that of 2014.
The South Korea mostly shipped to Viet Nam computers, electronic products and accessories, equipment and machines, and various kinds of fabric. Meanwhile, Viet Nam's main export products to South Korea are garment and textile products, crude oil, and seafood, and wood and wooden furniture.
Kim Jae Hong, KOTRA president said the centre would help companies from the two nations apply the VKFTA with flexibility and bolster their exports to China, the United States and the European Union.
Vice Chairman of the Viet Nam Chamber of Commerce and Industry (VCCI) Hoang Quang Phong said South Korea had advantage in technology, investment capital, production process and modern management experience.
He said the centre would be a reliable and useful address for businesses of the two countries during the co-operation and business development process.
The centre can co-ordinate with the VCCI's WTO and Integration Centre to build programmes and solutions to give best support to businesses of the two countries, Hai said.
At the ceremony, KOTRA and the Viet Nam Directorate for Standards, Metrology and Quality inked a Memorandum of Understanding to simplify administration procedures that Korean companies have to go through when exporting to Viet Nam. The Korean side also agreed to transfer technology in safety evaluation to Viet Nam.