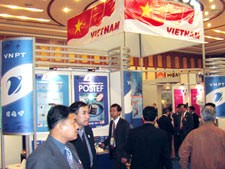 A telematics exhibit of VNPT in Laos.
After long negotiation, Viet Nam Posts & Telecommunications Group (VNPT), Lao Telecom Asia, and the German corporation - Siemens Mobile Network have reached an important agreement to establish GSM network in Laos.
The project of developing GSM network in Laos is also part of "The information technology (IT) and telecommunication developing through 2010 strategy" which has just been approved by the Vietnamese Government. According to the plan, telecommunication and internet service enterprises are encouraged to take advantage of the domestic market and expand their businesses in foreign markets.
The signing ceremony has been held in Hanoi in early April 2006, Vice-Director of VNPT, Mr. Lam Hoang Vinh, and representatives from Lao Telecom Asia and Siemens have signed this agreement. Mr. Vinh said, "The cooperation of the three parties in this project is an important milestone in VNPT's strategy of expanding its mobile services to foreign markets, in particular; and its foreign investment policy, in general".