Although the life insurance industry got a late start in Viet Nam, its breakthrough is spectacular, said Huynh Thanh Phong, executive general director of British life insurer Prudential in India, Thailand and Viet Nam.
Mr. Phong told Lao Dong newspaper that turnover from life insurance saw an average yearly increase of over 40% and made up nearly 1.25% per cent of gross domestic product between 2000 and 2004.
The sector has issued more than 6 million life insurance policies. Prudential Viet Nam has provided services to more than 2.2 million clients after six years of operations, accounting for 40% of the life insurance market, he said.
He attributed the result to government efforts to create a favorable legal framework. The Law on Insurance Business was promulgated in 2000, followed by a number of regulations. In 2003, Prime Minister Phan Van Khai approved a strategy to develop the nation's insurance market for the 2003-2010 period.
Since 1996, when the Ministry of Finance licensed Bao Viet as the country's first life insurer, a number of foreign-invested enterprises have gotten into the act.
According to Phung Dac Loc, general secretary of the Viet Nam Insurance Association, the financial capital of businesses operating in the life insurance sector has increased considerably, growing three-fold as of 2001. The entry of foreign enterprises with strong financial capacity, experience and strategy, has had a strong impact on the domestic insurance industry.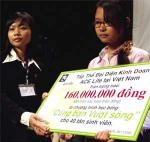 An ACE Life representative (L) handed VND160 million scholarships to 40 students in Ho Chi Minh City in Nov. 2005 (Photo: Tuong Thuy)
Besides Prudential, other foreign insurance companies, despite of their low market shares, also recorded considerable growth in revenues. Mr. Lam Hai Tuan, general director of American insurer ACE Life officially starting operations in Viet Nam in September 2005, said his company's operations in Viet Nam were a crucible in its strategy for developing the life insurance business in Asia.
In December, the French life insurance group Prevoir launched its activities in Viet Nam. It has entered a deal with Viet Nam Post and Telecommunications Corp. (VNPT) under which VNPT distributes Prevoir's life insurance policies via its network of post offices in all 64 cities and provinces in the country. The distribution began on January 1, 2006.

At present, the seven life insurers in Viet Nam are Prevoir, Prudential, AIA and ACE Life from the U.S., Manulife of Canada, Viet Nam's State-owned giant Bao Viet Life, and Bao Minh-CMG. The last name is a joint venture between Ho Chi Minh City Insurance Co. and Australia's CMG.