In the first six months of the year, Phong Phu and Viet Thang textile companies' exports of fabric, fibers and cotton, increased by 105 percent compared to the same period last year, it was announced recently.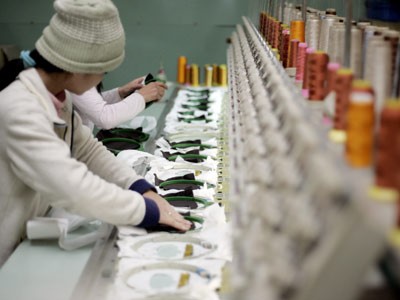 Vietnam textile and apparel industry can meet 30 percent of materials demand.
Although Vietnam's textile and apparel industry could only meet 30 percent of material demands, with the remaining being imported, however it does not point to a lack of industrial capability, said Vietnam National Textile and Garment Group (Vinatex).
The domestic textile industry does have numerous export contracts with overseas partners, said Vinatex.
A large amount of Vietnam's clothing materials were exported to China, one of its largest markets.
Currently, Vietnam's textile companies are investing in new machinery and improving production technology, as well as improving quality.
The country's textile and apparel sector is one of Vietnam's key exporters, with a growth rate of 20 percent per year, and accounts for about 15 percent of the whole country's total export turnover.
However, the actual value is very low, as Vietnam is used for outsourcing for overseas production.
Vinatex said the country is missing out on value-added, where larger revenue can be made, because it lacks professional designers.
All countries have to import materials, including China, as needs vary around the world. One solution is to specialize in specific materials and products in order to increase demand. 
The Government needs to provide incentives for foreign textile companies to invest in Vietnam in order to help the country develop modern techniques, Vinatex added.