At a conference in Ho Chi Minh City yesterday, members of the National Committee of International Economic Cooperation (NCIEC) and the Multilateral Trade Assistance Project (MUTRAP) explained to some 400 participants from local government agencies, business associations and enterprises Viet Nam's commitments to the World Trade Organization. The intent was to provide the participants with some insight into WTO principles and practices.

Joining forces for WTO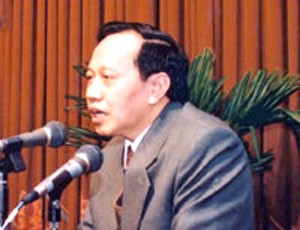 Deputy Minister of Trade Luong Van Tu
Presiding over the conference, Deputy Minister of Trade (and General Secretary of NCIEC), Luong Van Tu, called for local enterprises to join forces in order to prepare them for stiffer competition next year under WTO.

He said competition on the local market will become stronger due to the slashing of tariffs on up to 1,800 product lines. But he said the competition will still bring benefits.

"Import tax reduction is a big challenge for local companies. But if local enterprises are able to compete with their overseas competitors, they will develop quickly," said Mr. Tu, who was also head of the Vietnamese negotiation group for WTO accession.

He added consumers will enjoy more benefits under the new market-opening policies.

Mr. Tu suggested several ways for Vietnamese enterprises to overcome the challenges. "Big companies should set up alliances while small to medium sized companies should merge for better development," he said.

Tariff reductions

Early next year, in order to meet its commitments to the WTO, Viet Nam will reduce tariffs on 1,812 product lines, accounting for 17 percent of the total 10,600 lines currently subject to duties.

Nguyen Thi Bich, head of the International Cooperation Department of the Ministry of Finance, said "Most of the product lines that will have their tariffs reduced early next year are consumer goods which have current duties of more than 30 percent."

Garment and textile products will see the steepest slash of tariffs, falling by an average of 63 percent. "This will have a big impact on local producers", she said.

Tariffs on agricultural products will be reduced to 25.2 percent at the time that Viet Nam will officially join the WTO. Further reductions in the future will bring that figure down to 21 percent. Similarly, tariffs on industrial product lines will fall from 16.1 percent to 12.6.

FDI companies will be forbidden to distribute key products

Besides explaining the tariff reductions, Tran Quoc Khanh, head of the Department for Multilateral Trade Policy, said that, as of January 1, 2007, foreign-related enterprises will be allowed to import goods but not allowed to distribute them in Viet Nam.

For instance, a foreign direct investment (FDI) company could import cars into Viet Nam but would then be required to sell them to Vietnamese distribution companies.

FDI companies will be allowed to begin distribution of their goods after January 1, 2009, but not in the following "key" product categories: gasoline and oil, pharmaceuticals, books, newspapers, magazines, video media, tobacco products, rice, sugar and precious stones.

Only authorized companies will have license for their distribution.