The Vietnam-US Business Forum debuted April 8 in Hanoi with the attendance of nearly 200 representatives from Government agencies and organizations from the two countries.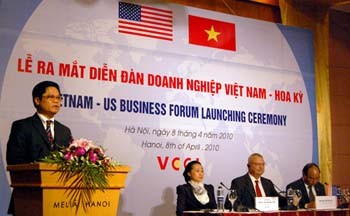 VCCI chairman Vu Tien Loc speaks at the Vietnam-US Business Forum launch ceremony in Hanoi April 8 (Photo: dddn.com)
The forum was established by the Vietnam Chamber of Commerce and Industry (VCCI) following a Government directive to promote economic and trade cooperation between Vietnam and the US.
Dang Thi Hoang Yen, chairwoman of the Tan Tao Group, will serve as chairwoman of the new forum.
She is also the representative of the US Chamber of Commerce, the American Chamber of Commerce (Amcham) in Hanoi, and Amcham in Ho Chi Minh City.
The main function of the forum is to build an effective public and private dialogue channel so that domestic businesses can contribute to creating policies related to the US market.
It will also collect petitions from members to present to organizations of the two countries in order to create a fair playing field for all enterprises, helping to boost Vietnam's economy as well as Vietnam-US relations.