Wal-Mart, the world's largest retailer, has discussed with the Viet Nam Association for Seafood Exporters and Producers (VASEP) to bring Vietnamese aqua-products to its stores around the world.
Representatives of the two sides met for discussions during the Boston Fair in Boston, the US, in mid-March 2006, VASEP general secretary Nguyen Huu Dung said.
At the fair, Wal-Mart acknowledged the strengths of Vietnamese catfish and shrimp, including their good quality and low prices, he said. The retailer wants the products to be certified for environmental sustainability by the Marine Stewardship Council, an independent non-profit organization that promotes responsible fishing practices.
Viet Nam's shrimp and catfish exports have been hit by the US anti-dumping tariffs. However, Vietnamese seafood has recently attracted attention from some large retailers and food chains.
Last year, representatives of Mazzetta and Amanda, major suppliers of McDonald's, visited Viet Nam to weigh the possibility of buying catfish for the food chain.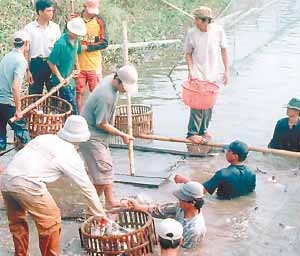 Farmers catch fish in the Mekong Delta, southern Viet Nam
Seafood is one of Viet Nam's major export earners. The country has earned US$517.5 million from seafood exports so far this year, up 4.67 per cent over the same period last year, according to Ministry of Fisheries. March alone contributed US$185 million to the total turnover.

Related links 
Wal-Mart
Marine Stewardship Council
VASEP