The use and purchase of wastewater treatment chemicals have not been monitored strictly, making a big volume of chemical residues and harmful chemicals used by production companies spread out in the environment.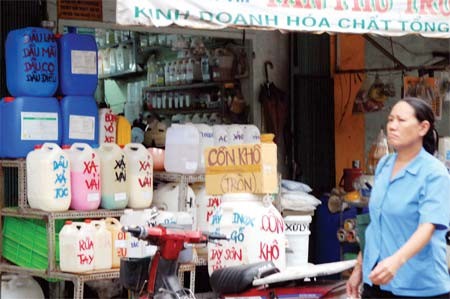 Many kinds of chemicals with unclear origin sold at a shop on Phan Van Khoe Street, District 6, Ho Chi Minh City (Photo: SGGP)
M.L. Science and Environment Company in Go Vap District, Ho Chi Minh City, has sold many kinds of wastewater treatment chemicals at from some thousand to tens of thousands of dong per kilogram or litter according to their quality and origins.
 
However, most of the company's chemicals which are priced at some thousand dong per kilogram don't have clear origins.
 
Most of sellers encode chemicals in trade names so buyers, which are production companies, can't know what type of chemical they buy. All buyers are ensured that their wastewater will be treated properly, and the treatment will meet environmental standards.
 
But companies don't care about kinds of chemicals, providing that the treatment with these chemicals can satisfy relevant agencies' requirements.
 
A staff of SIV Company in Tan Binh Industrial Park, said there are currently many environmental consulting firms, and consulting fees are about VND20 million per year.
 
He said only big enterprises afford the fees, small ones buy chemicals at Kim Bien wholesale market in District 5 to treat wastewater by themselves.
 
There are many kinds of chemicals sold at the market, and even sellers don't know their origins.
 
Le Hoa, an owner of a chemical shop in the market, said she can provide many kinds of chemicals in accordance with buyers' pockets.
 
Most of production enterprises don't have their wastewater analyzed to determine its pollution level to use an appropriate volume of chemicals for treatment.
 
Phung Chi Sy, deputy head of the HCMC Tropical Technology and Environmental Protection Institute, said there is properly a big volume of chemical residues from wastewater treatment systems spreading out in the environment, which has yet to be discovered.
 
He said relevant agencies need to manage purchase and origins of chemicals tightly.
 
Nguyen Trung Viet, head of the HCMC Natural Resources and Environment Department's Solid Waste Management Division, said about 200,000 kinds of chemicals are currently used in wastewater treatment, which can't be checked or discovered.
 
They have been imported in the country legally and illegally, he added.
 
Mr. Viet said local centers for verifying and analyzing chemicals in products and the environment don't have enough technical devices and qualified staff to detect harmful chemicals.  
 
Centers need to upgrade their devices to be able to find out excessive chemical residues in the environment promptly, he added.