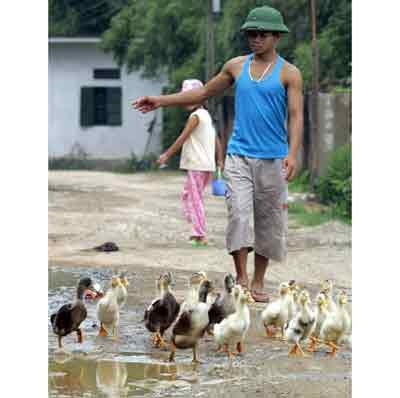 World Bank-funded project to support poultry breeders (Photo: AFP)
The State Bank of Vietnam and the World Bank (WB) in Vietnam signed an agreement December 10 to improve the overall competitiveness of Vietnam's livestock production.
The agreement primarily targets the meat supply chain by addressing the main constraints and risks faced by household-based livestock producers.
Under the contract, the WB will provide credit of US$65.26 million of a total $79.03 million for the Livestock Competitiveness and Food Safety Project, which is expected to be completed in mid 2015.
Specifically, the project aims to increase production efficiency of household producers through the adoption of Good Animal Husbandry Practices.
It will reduce negative environmental impacts by supporting livestock producers, markets and slaughterhouses in meeting environmental standards. The project also strives to improved food safety by inciting slaughterhouses and meat markets to operate at national hygienic standards.
The agriculture sector currently accounts for 22 percent of Vietnam's GDP and more than 60 percent of employment, of which the livestock sub-sector accounts for 27 percent of agriculture's contribution to GDP (about 6 percent of total GDP). 
Pig production is the most significant contributor (about 71 percent of total livestock production). Livestock production is one of the fastest growing sub-sectors in agriculture and is projected to account for about 42 percent of agriculture GDP by 2020.