Vietnam is currently the largest among the emerging markets of SAP, a market leader in enterprise application software, with clients being major companies, said the firm's country manager.
"SAP Vietnam has recorded extremely successful results, concluding a number of major deals with leading Vietnamese enterprises whose business and operations span across a diverse range of industries," Mr. Srinivas Adimulam said during a meeting with reporters in Ho Chi Minh City August 18.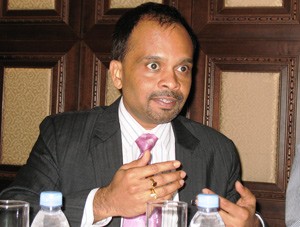 Srinivas Adimulam gestures as he speaks about the Vietnam market during a meeting with media in Ho Chi Minh City August 18, 2011 (Photo: Tuong Thuy)
"I'm the managing director for emerging markets at SAP such as Cambodia, the Maldives, Nepal, Pakistan, Vietnam and so on but I spend most of my time in Vietnam," he said.

"We see strong demand in Vietnam, where businesses want to become market leaders or top companies.

"The Vietnamese enterprise software market is clearly ready for the next stage of development, as evidenced by the growth in the complexity and size of projects recently underway.
"Leading Vietnamese business groups such as Hoang Anh Gia Lai and Trung Nguyen Coffee have placed their confidence in SAP as they strive to reach a new level of operational efficiencies and transparency across their multi-sector operations."
Neither Hoang Anh Gia Lai nor Trung Nguyen Coffee representatives attended the meeting to elaborate, while SAP Vietnam was not able to speak for them.
However, Mr. Adimulam said the Hoang Anh Gia Lai Group, with interests in real estate and furniture, and Trung Nguyen Coffee would unveil the things soon.

He added other common brand names from Vietnam being SAP clients were Long Thanh Plastics, supermarket chain Big C, Soi The Ky, Asia Foods, An Hung Tuong, Habubank, and Nam Con Son Gas Pipeline.

SAP (NYSE: SAP) launched this June in Vietnam a subscription-based hosting option designed for small and medium sized enterprises, bringing to SMEs its solutions with lower costs.
Tom Kindermans, SAP senior vice president - Ecosystem & Channels, gave the launch. He said that the money cost was high nowadays, so his Germany-based corporation must provide cost-effective solutions.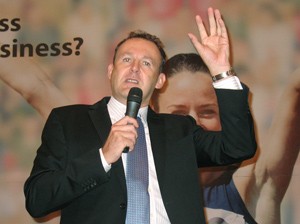 (File) Tom Kindermans, SAP senior vice president, speaks about how his company can help enterprises run better at a SAP product launch in Ho Chi Minh City June 15, 2011 (Photo: Tuong Thuy)
The package is charged on the pay-by-use basis, with the cost equal to the price to pay for a daily coffee drink, Vietnam country manager Adimulam said at Thursday's meeting.
He added his company would hold SAP World Tour 2011 Vietnam at the Sheraton Hotel in Ho Chi Minh City on September 15, with at least 300 delegates participating.

The event "would be a comprehensive showcase of SAP's innovative solutions that such as Mobility, Business Intelligence, HANA and In-memory computing, a number of our leading Vietnamese customers will also come together to share their experience running SAP," he said.
The software programmer added globally, SAP delivered a robust performance in the second quarter this year, charting its 6th consecutive quarter of double-digit growth in Non-IFRS software and software related services revenue. Software Revenue saw a corresponding increase of 35 per cent, to €860 million.

He said SAP's strong global performance in the first half of the year has led the company to refine its full-year 2011 guidance. Whilst FY2011 Non-IFRS software and software related services revenue is still expected to increase in a range of 10 to 14 per cent at constant currencies, SAP expects to reach the higher end of that range.

Asked about Vietnam, he said SAP did not provide the figures from a single market, just a region instead.