The prices of many goods have shot up since early December due to the dong's recent depreciation and rising for goods demand ahead of Tet, but some producers and distributors are keeping prices down hoping to grab a larger market share.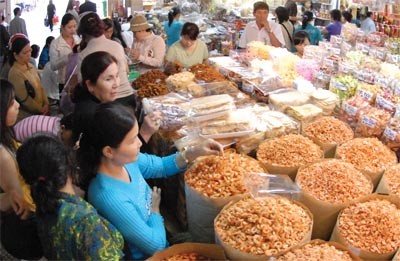 Shopping for Tet at a market in Ho Chi Minh City last year. With the dong weakening, making imports more expensive, and demand rising ahead of Tet, prices of some goods have shot up in December (Photo: SGGP)
Following the central bank's decision to weaken the dong by around 5.44 percent at the end of November, prices of imports have risen -- Toyota cars, for instance, are VND16.1-84.6 million more expensive.

Cooking gas prices have jumped by VND22,000 for a 12-kilogram cylinder to VND267,000.

Foodstuff producer Vissan announced December 12 hikes of VND2,000-3,000 in the prices of 15 processed foods.

At Binh Dien market in District 8, prices of tiger shrimps have increased by VND10,000 a kilogram to VND130,000, squid by VND5,000 to VND70,000, sausages by VND7,000-15,000 to VND115,000, and tomatoes by VND1,000 to VND6,000.

Pork prices have risen by VND3,000 a kilogram at wholesale markets in Ho Chi Minh City.

Sugar has seen the highest price hikes, rising by 20 percent from last month and nearly half from last year to VND17,500-18,000 on the wholesale market.

Huynh Quoc Bao, an official at Binh Tay Market, said over 90 percent of goods, especially imports, saw prices shoot up last week.

Dairy companies, including Vinamilk, increased prices by 5-6 percent in early December, blaming it on the higher costs of imported raw materials and sugar.

Confectionery giants Bibica and Kinh Do have announced 5-10 percent hikes in the prices of some products.

But many producers and distributors have not increased prices after earlier promising not to hike them until the end of the year.

Le Van Loc, deputy general director of dairy maker Nutifood, said though imported raw materials and sugar cost 12 percent and 30 percent higher than in the third quarter, his firm would not hike prices as it had pledged earlier ths year.

It would maintain prices until early next year by cutting costs, he added.

Some supermarkets are also working with distributors to keep prices stable.

Saigon Co.op has not only promised to maintain rice prices until early next year but is also offering discounts of 50 percent on clothes, consumer goods, and appliances.

Big C supermarket is offering 2-50 percent discounts on over 800 items, 45 of them essential foods like pork, basa catfish, and chicken on which it is offering 10-20 percent discounts.

Many electronics shops too have kept their prices down despite the weaker dong, thanks to early preparations.

Dang Quy, deputy sale director of Thien Hoa Electronic Center, said Toshiba and Daewoo informed his company in November about a rise in prices, but soon changed their mind and have pledged to not hike prices this year.

Besides preparing early, Thien Hoa also negotiated with suppliers to ensure it can keep prices down during the shopping season, he added.

Le Xuan Dai, deputy head of the Ho Chi Minh City Market Management Department, said last week that his department would strengthen monitoring of sales points and prices of essential goods to crack down on price hikes.