With Viet Nam likely join the World Trade Organization in November, several academics and business people got together recently to discuss what the country should do to survive global competition. Here's what they said.
Dr. Vu Thanh Tu Anh, lecturer of Fulbright Economics Teaching Program: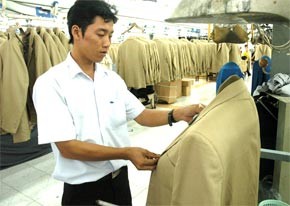 The garment industry will face many difficulties when Viet Nam joins the WTO. (Photo: SGGP)
Viet Nam's export revenue grew little in the 1997-2002 period because of the heavy reliance on crude oil and farm produce at the time. Now a different strategy is needed as Vietnamese enterprises have to face global competition.

The first thing Viet Nam must do after becoming a WTO member is to prove to the world that it is a logical place to outsource manufacturing to.

Dr. Le Dang Doanh, economist:
Viet Nam has to confront global competition but let's not forget that WTO membership will bring many opportunities. After the Coca Cola Company entered Viet Nam, many Vietnamese soft drink makers including Tribeco had a hard time at first. Eventually, though, Tribeco came back with vigor by bringing out non-carbonated beverages like soya bean milk, carrot juice and orange juice, and they went down well with the public. Vinamilk has done something similar, especially with fruit juices.

Those who spot a niche in the market can survive stiff global competition.
Dr. Tran Dinh Thien, deputy head of the Central Economics Institute:
Viet Nam has a shorter period to carry out its commitments than the countries that joined the WTO earlier. Therefore, Viet Nam needs to make great efforts.
It has to adjust its growth patterns, shift from relying on natural resources, boost science and technology. Other changes should be export-oriented growth and promoting the non-State sector, where foreign-invested enterprises are the leaders in terms of technology and finance.
Viet Nam must adjust its laws and regulations to suit WTO rules, and continue introducing reforms for a market economy.
The country also needs to keep reforming the State economic sector using market solutions, say by reducing State investment for one.
Dr. Tran Huu Chinh, general director of Fideco:
The government needs to reform the macroeconomic system. It is necessary to create a level playing field for all economic sectors, embrace free trade and develop the private sector.
Companies need to promptly meet consumers' new requirements, to rapidly train staff in foreign languages, computer science, business administration and other skills.
There's a proverb from Africa about antelopes having to be faster than the hungry tiger if they want to survive, whereas all the tiger need do is outrun the slowest antelope. It is not necessary to compare Viet Nam with the antelopes or the tiger, but it must run fast in the right direction when the sun rises.
Mr. Gian Tu Trung, chairman of the Pace Company:
A big question is what Viet Nam can sell to the world. The question is for the entire country and each enterprise, each businessman. Therefore, the point of view needs to change.
An established point of view from Viet Nam is that the Vietnamese people consider themselves inferior to others. Why don't we ask whether they have disadvantages, or something that Viet Nam can make better than others? The key to success could be to capitalize on Viet Nam's strong points and other peoples' weaknesses.