The export of wood products may reach US$2 billion in 2006, an increase of over 20 percent over the previous year, according to the Trade Ministry.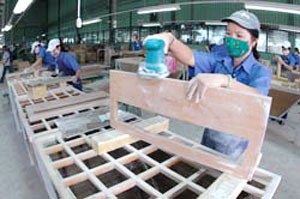 Making furniture for export
By 2010, wood processors could see an annual turnover of US$5.5 billion, and Viet Nam could surpass China in the export of wood furniture to the US market. Viet Nam was already ranked third in the export of wooden products to the Japanese market, following China and Thailand.
Binh Duong is currently the leading province in producing export wooden products. The province, with about 450 enterprises and 200 households processing wood, accounted for more than one-third of the country's total wood export value.

In the first 10 months of this year, the export turnover of wood products from Binh Duong Province reached nearly US$500 million, a year-on-year rise of more than 17 percent.
The nation's accession to the World Trade Organization would also present even more growth opportunities for the wood processing industry, according to the Ministry, as Viet Nam would be able to import raw materials at lower costs as well as export processed wood products to foreign markets without facing duties or trade barriers.
Mr Tran Quoc Manh, vice president of Ho Chi Minh City's Fine Arts Products and Wood Processing Association, also remarked that Vietnamese wood processing and exporting enterprises had many advantages for penetrating into foreign markets, including skilled workers and a seaport system favorable for shipping products.
However, the wood processing industry was also facing challenges, including shortages in material and labor, Mr Manh said. Domestic raw materials could only meet 20 per cent of the current demand, he said.
In fact, more than US$1 billion of the US$2-billion export turnover was for importing wood and machinery.
Vietnamese wood processing and exporting enterprises have had to follow the world market price of wood due to their dependence on imported raw materials.

In the coming time, the Viet Nam Timber and Forest Product Association will prioritize the establishment of three wood trading centers in northern, southern and central Viet Nam.
Wood trading enterprises will be able to check and order raw materials at those centers, saving their transaction expenses in looking for sources of raw materials.

The association will also organize seven trade promoting programs in 2007 subsidized by the state budget of about VND5 billion (about US$300,000) to enhance strengths of wood product processing enterprises in competitiveness and integration after Viet Nam became a member of WTO.
Viet Nam has about 1,200 enterprises processing and exporting wood products, 200 of which are foreign-invested. The country currently stands fourth in Southeast Asia in exporting wood products. Vietnamese wood products have reached 120 nations and territories around the world.