The Kim Tin Group broke ground on April 24 for Viet Nam's largest medium density fiberboard (MDF) plant in Binh Phuoc Province.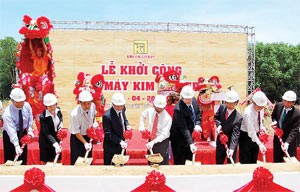 The Kim Tin Group breaks ground for Viet Nam's largest MDF plant in Binh Phuoc Province yesterday
The company's chairman, Tran Tien Hai, said the 24-hectare plant would cost VND200 billion (US$12.5 million) to build.
 
The factory, in Dong Phu District, would use cutting-edge technology to produce 160,000 cubic meters annually, he said.
 
Once it opens early next year, the plant will supply 20 percent of the country's MDF needs. By 2012 Kim Tin will expand capacity to 300,000 tons per year.
 
MDF is a type of hardboard made from wood fibers glued under heat and pressure.
 
On the occasion of the ground-breaking, Kim Tin gave away 200 scholarships worth VND500,000 each to disadvantaged students in the district.
 
Producers of particleboard and other low-cost materials are looking forward to the development of MDF, which is being touted as a good material for making furniture.
 
Forecasts vary but there is consensus that demand for MDF will spike.
 
Considering it has a population of 80million, and based on average household needs of a table, six chairs, two beds, and one wardrobe, and with 60 percent of these households buying new furniture every 10 years, Viet Nam needs one million cubic meters of wood every year.
 
It has shifted to producing furniture from reconstituted wood produced from plantations instead of natural forests.
 
However, the number of factories producing reconstituted wood remains modest.