The World Bank (WB) always gives positive comments on Viet Nam's economy in the medium term, WB Acting Country Director in Viet Nam Martin Rama said.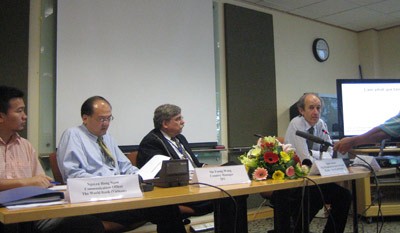 WB officials answer reporters'questions during the press briefing in Ha Noi on June 3, 2008.
Speaking at a press briefing in Hanoi on June 3 on the threshold of the mid-term Consultative Group (CG) Meeting, the WB official said he was optimistic about Viet Nam 's economic growth despite high inflation rate, a large trade deficit and a real-estate market bubble.
Meanwhile, WB Vice President of the East Asia and Pacific Region James Adams told reporters he believes the country's fast economic growth rate and the government's suitable policies will help Viet Nam overcome difficulties in the near future.
The WB suggested the government continue to apply credit policy, take more drastic measures towards public investment projects and government expenses as well as widen the trade band to improve the balance of payments and lessen worries about price adjustment.
The mid-term CG Meeting, which is slated for June 5-6 in Sapa in northern mountainous Lao Cai province, will focus on recent changes in Viet Nam's economic development, climate change and the national action plan, as well as the development of the northern mountainous provinces and aid effectiveness.