Having been given the wrong variety of pomelo in much of the northern province of Phu Tho, thousands of famers have suffered huge losses due to massive harvest failures.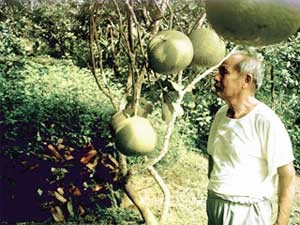 A pomelo orchard in Phu Tho Province. Recently, thousands of farmers have suffered huge losses due to having been given the wrong variety of pomelo. (Photo: Phu Tho Online)
Pomelo grown in Doan Hung District has long been well-known for its quality, so provincial authorities in 2003 launched a project to cultivate it in 1,000 hectares covering 28 communes.
The project was developed by the district authority at a cost of about VND28 billion (US$1.55 million).
The project created a hope among growers that they could sell their high-quality pomelo to a wide market, including Ho Chi Minh City, and even for export.
But that hope has faded since many growers recently found the supplied variety was not Bang Luan, one of the two famous varieties in Doan Hung.
When delivering the pomelo seedlings to farmers, the province's Center for Seeds and Seedlings undertook in writing that the variety was Bang Luan and that it would pay compensation to growers if it committed mistakes.
However, when pomelo trees bore their fruit, many growers found the pomelo had a bitter and sour taste. Those trees were undersized and had few fruits.
For example, of 300 pomelo trees in an orchard owned by Phung Minh Cuong in Hung Quan commune, only 50 trees bore sweet fruits. 
He said he did not know which variety the remaining 250 trees belonged to.
The total investment by Mr Cuong in "Bang Luan" pomelo was about VND100 million ($5,500). 
The same situation occurred on thousands of pomelo orchards involved in the project, with many growers seeking help from the provincial Department of Agriculture and Rural Development.
In response to the growers' complaints, the center later re-examined the variety and confirmed that it was not Bang Luan and promised to pay damages to growers. However, no grower has yet to be paid compensation by the center.
Talking with Sai Gon Giai Phong, the head of the Doan Hung District's Agriculture and Rural Development Department, Nguyen Hoang Minh, confirmed that the center mistook the Dien variety for Bang Luan and the number of trees affected by the mistake was just a few thousand.
But his explanation was not convincing, since Dien is a specialty variety of Hanoi, which is sweet, not at all similar to the sour tasting and bitter pomelo recently harvested in Phu Tho.
In addition, the reality showed that as mush as 80 percent of the pomelo orchards had been provided with the wrong seedlings at a rate of 20 to 90 percent.