Rose Tsou, senior vice chairperson of Yahoo-Asia Pacific stated that Yahoo was planning on a new development strategy for the Vietnamese consumer.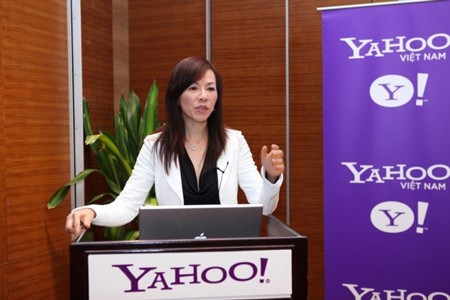 Rose Tsou, senior vice chairperson of Yahoo-Asia Pacific introducing their new services for Vietnam.(Photo:SGGP)
The announcement was released at a summit conference on marketing in Hanoi from April 8-10 with 150 advertising units and media companies of the region participating in the event.
Ms. Rose Tsou said that Yahoo saw great potential in the Vietnamese market and would pull all stops to boost more activities here.
Yahoo also appreciated the high growth rate of Internet users among the emerging markets of Southeast Asia.
In the second quarter of this year, Yahoo will introduce many products that will run on new technology with the indigenous language.
Yahoo will run OMG service, which will provide news related to fashion, movies and cosmetics.
At the meeting, Yahoo officially launched Livestand, a digital newspaper for Android and iPad tablets. Yahoo also promised to launch more products in the local market in the near future such as Search Direct, a new research tool.
Currently, there are around 17 million users of Yahoo per month in Vietnam. Yahoo's research tool holds 30% of the research market.
In 2006, Yahoo launched the Vietnamese versions of Yahoo Messenger on its website http://vn.yahoo.com. The company provides emailing, blogging, chatting and online music amongst it other services.