There had been hope earlier that calendar sales would go up slightly by 5-10 percent this year as compared to last year, however, sales continue to remain dull throughout the country.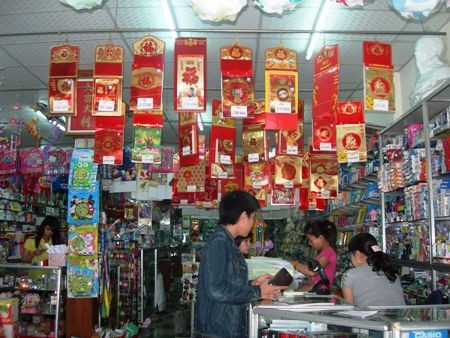 Customers browse in a calendar shop looking for good designs as well as quality
Manufacturers usually release their new designs of calendars early in November, as the last months of the year are peak sale season for annual calendars.
The current economic downturn has greatly affected the market, and although many stores have launched very tempting promotional programs, so far only a few customers have placed orders.
The order volume this year is only one-third what it was last year.
Along Nguyen Thi Minh Khai Street, many book stores have displayed their stocks. At the Youth Store, owner Thuyen said he plans to offer a discount of 40 percent on large orders for smaller calendars and 20 percent for the bigger ones.
Many shop assistants in Tran Hung Dao and An Duong Vuong Streets in District 5 and on Le Van Sy Street in District 3 said people just browse around to see designs and ask prices but very few place orders. Thuy, manager of Pham Thuy Shop in Nguyen Thi Minh Khai Street, said her store has displayed the product for more than a month but only foreigners and companies have made purchases.
Designs of calendars this year are not much different to last year's, which mostly center around the country's scenery; bonsai flowers; feng shui designs in gold and silver items; various gods symbolizing happiness, wealth and longevity; and pictures of internationally well-known celebrities.
Small and medium-sized calendars are priced at VND16,000 (US$0.7) to VND20,000 ($0.96) while larger ones range from VND400,000-500,000 ($19-24).
Shop assistants said that this year people preferred the weekly calendars with designs of nature. Every year enterprises, commercial banks and insurance companies placed orders in bulk, but this year there are few clients.
Sensing the decreasing purchase trend, the Department of Publishing under the Ministry of Information and Communications has reduced the quantity  from 280,000 to 230,000, investing only about VND4 billion. As investment this year is risky, publishing companies are very worried about recovering costs.
At present, there is a paradox with most shops offering discount on large orders while retailers are being neglected. Vietnamese traditional notion is that a house should have one block calendar from which the first sheet on the first day of the New Year can be torn off to wish for a year of prosperity, happiness and health. But this tradition is fading fast as time passes by.
Mrs. My in District 8 in Ho Chi Minh City said she has rarely bought one for herself as usually friends gift them to her every year. One calendar can cost up to VND200,000, which is quite high for her.
In previous years, customers only paid attention to design and ignored the genuineness of the product, readily accepting fakes as long as they looked attractive. However this year, people are rejecting fake products and seeking quality in what they spend money on.