After a long and gloomy period of auto sales, Ho Chi Minh City has seen a recent surge in demand for cars.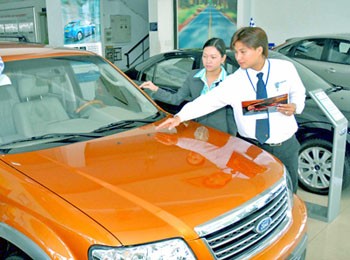 A worker at an auto dealership in HCMC shows a car to a customer. Towards the end of the year, the city's auto market has seen a surge with demand unable to meet supply. (Photo: SGGP)
Since the middle of the fourth quarter, most city automobile retailers have reported an influx of customers.
As opposed to last year when customers sought mainly medium-priced cars produced domestically or secondhand imports, they are now willing to pay billions of dong for new vehicles. However, supplies have failed to keep pace with customer demand.
During the last two months, more than 12,000 cars were sold in HCMC each month.
Of these, five-seat Sedans which account for one third of domestic supply have been consistently out of stock.
Around 200-700 Camry, Altis, Vios, and Spark cars are sold each month in HCMC but there are still not enough to go around.
Tran Van Quyen, director of Thai Hoa Automobile Company in Tan Binh District, said that customers wanting to buy Corolla Altis 1.8-2.0, Camry 2.010, Fortuner, and Civic brands, will have to wait until the second quarter next year. However, if they're willing to pay extra, they can receive vehicles a little sooner.
At most showrooms selling domestically produced cars, businesses have had to stop taking new orders.
Imported cars, meanwhile, have also been selling like hot cakes, regardless of high prices.
At the end of the third quarter, a four-seat E350 coupe was selling for VND2.5 billion (US$135 million) while Ranger Rover Supercharged vehicles sold for over VND4 billion (US$216 million).
Demand, prices likely to skyrocket
The spike in domestic car demand is being attributed to the annual surge in Vietnamese spending toward the end of each year and also to upcoming changes in tariff policies.
Prime Minister Nguyen Tan Dung recently ordered that imports be limited in favor of exports, especially for unnecessary items like cars.
The Ministry of Industry and Trade, meanwhile, said it would apply measures to limit imports such as lengthening the customs clearance duration and limiting import loans to cap the number of cars imported in 2010.
In addition, the Value Added Tax and registration fees of both domestic and imported cars will increase to 10-15 percent in the future.
With the new changes looming, the rush to buy cars is expected to continue until the end of the year.
Auto retailers said the vehicle market will see even stronger sales during the last two months of the lunar New Year, especially of imported cars, because the economy has recovered strongly.