The construction material market has gradually warmed up after a long-lasting gloominess as residents have rushed to build or repair houses ahead of the lunar New Year festival.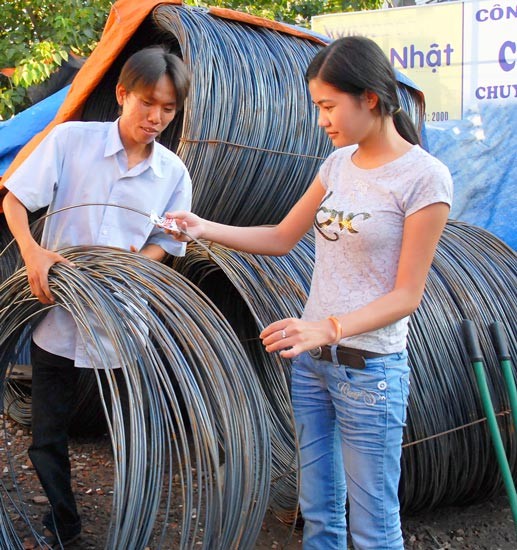 A steel shop in HCMC (Photo: SGGP)
Construction material demand has considerably increased since the fourth quarter last year and shop owners reported a year on year increase of 20-30 percent in purchasing power.
 
Steel and cement have been most consumed with slightly hiked prices. Steel price has edged up VND300,000 a ton since last December after the Southern Steel Corporation lifted their prices.

The prices of cement, bricks and tiles have also gone up by 5-10 percent in recent months over the previous months. Sand and gravel prices have also soared up a little.
 
Owner of a construction material shop in Highway 13, Ho Chi Minh City said that the number of customers increased over normal in the last two months, most of them had been building or repairing their houses.
 
In some areas such as Thanh Xuan ward, District 12 tens of houses has been built within one week.
 
Construction Material Department under the Ministry of Construction said that construction material consumption has seen a 10 percent year on year increase.
 
Ho Chi Minh City Construction Department reported good consumption of some construction materials, for instance cement sales have soared by 12 percent. This shows a positive sign of the construction market after three consecutive years of price and sales reduction.
 
Economic experts forecast that the construction material market will gradually heat up because social housing, apartment and residential area projects have been sped up in big cities nationwide.
 
In HCMC a lot of social housing projects have been carried out to solve difficulties for the real estate market, stimulate construction consumption and meet residents' demand of low cost apartments.
 
However the General Statistics Office warned that the construction market will face with a lot of difficulties and challenges this year as real estate market has recovered slowly.
 
Construction businesses have been unable to tackle debts left from the previous years. Although interest rates have been lowered, small and medium businesses have still found it difficult to access loans.
 
In addition construction materials from neighboring nations will continue to overflow domestic market due to tax exemption. Statistics by the Steel Association show that the volume of steel imported with 0 percent tariff rate to Vietnam has risen to 43,000 tons so far.
 
Tile segment has faced strong competition from Chinese products with beautiful designs and low costs. Chinese bathroom accessories such as tubs, taps, douches, wash basins and plastic doors have been rather popular in the market with the price accounting for only 60-70 percent of domestic prices of the same products.