President Truong Tan Sang has declared that the Vietnamese Party and State will facilitate businesses to develop, allowing them to contribute to national renewal within the model of socialism.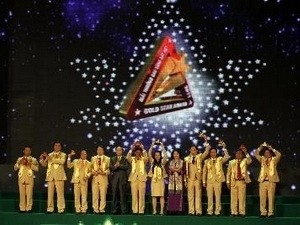 At the event (Source: VNA)
The president delivered the promise in a reception speech for outstanding representatives of the Vietnam Association of Young Entrepreneurs on August 31, the 20 th anniversary of its establishment.
President Sang praised the achievements made by Vietnamese businesses in recent years, especially given the difficulties posed by the global economic crisis.
He remarked that in order to succeed in a market economy, enterprises must actively build a business strategy to ensure effective and sustainable development.
The mission of young entrepreneurs in the country's business community is to contribute to macro policy-making and socio-economic measures, boosting the image and strength of Vietnamese trademarks, he advised.
For their part, the business representatives made clear their desire to aid the country's socio-economic development and recommended solutions to overcome the credit and financial limitations which have hampered their production.
They voiced proposals for administrative reforms to create a healthy production environment in order to positively contribute to the country's growth.