Over 200 Ho Chi Minh City young people discussed October 4 what they thought about domestically made goods when they participated in a forum, "Youth buying Vietnamese goods is a priority."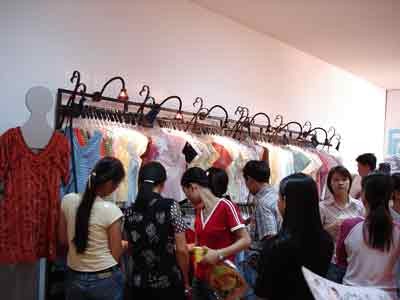 Young people choose domestically-made goods at an exhibition for Vietnamese high quality goods ( Photo: U.Phuong)
A student from the city's Marketing University said: "Advertising of Vietnamese goods has not been well conducted. It results in people not knowing where to buy the products. In addition, sales people do not welcome customers warmly enough to attract people to return their shop again."
Vo Thuy Vi, from the city's Law University, stressed she would buy Vietnamese items if the brand names impressed her for their quality and prices.
Many participants said it would be good if people could return items that do not fit or do not work properly.
An economist, Tran Ba Tuoc, said shops in Vietnam have a no return policy while their counterparts in foreign countries can use products for two weeks then decide to keep them or not. Businesses should take responsibility for their goods, as it would lead to better quality goods.
Some blamed weak Government management for the overwhelming domination of low quality, imported goods on the market over good quality domestically made items.
Rampant low quality imported goods on the market have affected customers' choice to the detriment of domestic products, said the director of the Center of Business Studies and Assistance, Vu Kim Hanh.
Ton Nu Thi Ninh, former deputy chairperson of the Foreign Affairs Committee of the Vietnam National Assembly, wondered why some Vietnamese people still buy expensive foreign good brand names, and how to increase the value of Vietnamese –made goods.
The organizers conducted a small investigation of young people's shopping habits. Some feedbacks revealed that young Vietnamese men use over 50 percent of their income on households appliances, with many saying such purchases would be of Vietnamese products if they were of high quality, especially if it would help the country's economy.
Ms. Kim Hanh advised intelligent customers should choose quality items and not be inflexible.
The event was held by the Association of Vietnamese United Youth, the Young Businesspeople Association of Ho Chi Minh City and the Center of Business Studies and Assistance on October 4.

Related articles:
Buy Vietnamese' program becoming popular
Politburo wants people to consume local products to prop up economy