The fourth international water puppetry festival is scheduled to take place in Hanoi capital on October 10- 16, reported Nguyen Dang Chuong, Head of the Performing Arts Department at the press conference yesterday.
 
The event attracted the participation of ten water puppetry teams from Vietnam, Russia, the United Kingdom, Thailand, Myanmar, Germany, Philippines, Cambodia, Laos and Belgium.
 
Head of the Performing Arts Department Nguyen Dang Chuong said that besides competing performances, teams would perform in Nam Dinh, Ninh Binh, Hai Duong, Thanh Hoa and Vinh Phuc province.
 
Within the framework of this year's festival, ten teams will compete in 18 items, highlighting distinct cultural characteristics of each country.
Water puppetry is a form of unique folk art that originated in the Red River Delta in the north of Vietnam a thousand years ago. Water puppetry is performed in a chest-deep pool of water, with the water's surface as a stage. The puppeteers normally stand behind a curtained backdrop to control the puppets. Thus, the puppets appear to be moving over the water.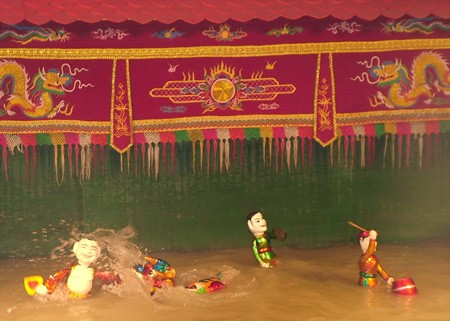 Puppets appear to be moving over the water. (Photo: SGGP)