Vietnam Record Book Centre (Vietkings) has announced the recognition of 10 Vietnamese records for Asian Records 2012 by the Asian Record Council.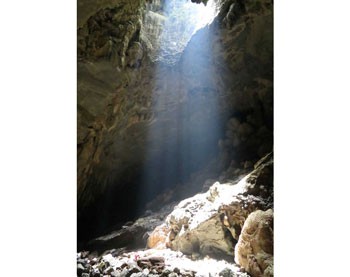 Thien Duong (Paradise) cave (Photo: Sggp)
Con Dao Prison Relic Site has been recognised as the largest prison and the Cu Chi Tunnel as the longest tunnel in Asia. The 250km underground tunnel system built during wartime is now one of the most popular tourist destinations in Cu Chi District in Ho Chi Minh City.
The Thien Duong (Paradise) cave in Phong Nha-Ke Bang National Heritage Park in the central province of Quang Binh is the deepest cave in Asia at a length of 31.4 km. The cave is 30-100 metres wide and 60 metres high.
'The biggest bronze pagoda on a mountain top' is the Dong Pagoda on Yen Tu Mountain in the northern province of Quang Ninh.
The longest lobby with 500 La Han (Buddha) statues and the biggest bronze gold-inlaid statue of Sakyamuni are in Bai Dinh Pagoda in Ninh Binh Province.
The biggest statue of Jesus Christ is on Tao Phung Moutain in Vung Tau City in Ba Ria-Vung Tau Province.
The biggest Bodhisattva of Mercy Statue was made of 500,000 flowers by artisans at the Linh Phuoc Pagoda in Da Lat. The statue is 15.5 metres high and weighs three tonnes.
A unique poetry book titled 'Thi Van Yen Tu' (Yen Tu's Poetry and Cloud) is recognised as the biggest and most unique poetry book in Asia. The 300-page book made by calligrapher Tran Quoc An measures 125cm x 80cm x 16cm and weighs 120 kilos.
An individual record belongs to Bui Ngoc Thinh, 12, in Khanh Hoa Province, who is blind but can play the most number of musical instruments including the Sen, Nhi (two-string fiddle),organ, guitar, drum, tranh (16-string board zither) and kim (moon-shaped two-string lute).