The casting of 100 bronze drums for the 1,000th anniversary of Thang Long-Hanoi kicked off in Dong Tien Commune, Dong Son District in the northern province of Thanh Hoa on December 22.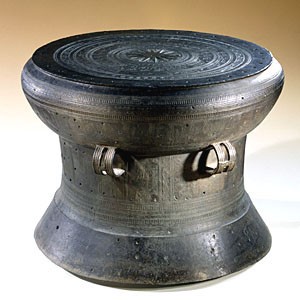 One of Dong Son drums. Dong Son drums are found in many provinces nationwide.
The work began with a ceremony held by the Lam Kinh Thanh Hoa Heritage Association in cooperation with the Cultural Heritage Association of Vietnam, Vietnam History Science Association, and Vietnam Young Business Association.
At the ceremony, artisans will use ovens to cast four drums, which are reproductions of the traditional Ngoc Lu, Hoang Ha, Song Da and Quang Xuong drums.
The 100 drums will then be cast by four famous craftsmen in Thanh Hoa Province including Nguyen Minh Tuan, Le Van Bay, Thieu Quang Tung and Dang Ich Hoan using traditional methods.
Ninety-nine of the 100 drums, which will measure 60 centimeters in diameter and 48 centimeters in height, will be cast in Dong Son District, believed to be the home of bronze-drum casting in Vietnam. 
Chairman of the Lam Kinh Thanh Hoa Heritage Association Ho Quang Son said the finished pieces will be decorated with words and dragon patterns.
A final drum will be adorned with 1,000 dragon images and cast in the Hung Temple dedicated to Vietnam's founders, the Hung Kings on the 10th of the Third Month, 2010 of the lunar calendar.
The 100 bronze drums are expected to be completed on August 15, 2010 and ready for presentation at the 1,000th anniversary of Thang Long – Hanoi.