Eleven young Vietnamese artists in Ho Chi Minh City received grants from the City of Melbourne, Australia on Thursday and the opportunity to have their works exhibited in Melbourne.
The Australian Consulate General in HCM City together with the City of Melbourne announced the grantees at the opening ceremony of an exhibition of their artworks at Out-2 Design Studio in District 1. The exhibition is open to the public until Mar. 6.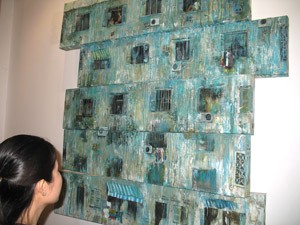 "Common and private" oil-paint artwork by Nguyen Thanh Nhan at the exhibition. He is one of the ten artists who received a grant of AUD500 each. (Photo: Tuong Thuy)
Ten artists – Hoang Cong Minh, Nguyen Thi Bao Ngoc, Tran Minh Duc, Tran Thi Thuy Trang, Pham Huy Hoang, Pham Thuy Phuong, Nguyen Thanh Nhan, Nguyen Dinh Hien, Ngo Thi Thuy Duyen, and Hoang Anh – received a grant of AUD500 each.
This year the selection panel also decided to award an encouragement grant of AUD250 to Phan Ngoc Lan Chi.
The Young Artist Grants Program is an initiative of Melbourne in cooperation with the Australian Consulate General in HCM City. The project is aimed at supporting young emerging visual artists living and working in the city.
Australian Consul General Graeme Swift said, "Programs such as this are extremely valuable, the grants capture the most creative and ambitious work by emerging artists and develop strong cultural links between our Australia and Vietnam."
According to the Consul General, the standard of applications was particularly high and the assessment panel was impressed with both the talent demonstrated by the artists and their effort in preparing the applications.