The 11th Pusan International Film Festival (PIFF) will feature 245 films from 63 countries in 10 section. Among the films are 64 which will meet an audience for the first time at PIFF, a reason organizers call the festival Asia's largest and to be held from October 12 -20.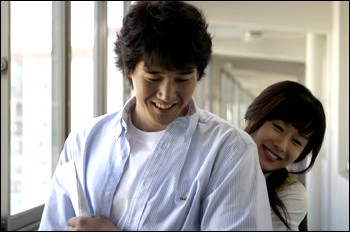 Yoo Ji-tae, left, and Kim Ji-soo star in the opening film titled Traces of Love by Kim Dai-seung
The lineup reveals the distinctive cinematic environment in South Korea as the host. It includes documentaries and opens doors into the renaissance of South Korean movies. Programmers also decided it is the right time to showcase Southeast Asian cinema.
They will be screened at 31 screens in five theaters in Haeundae and Nampo-dong.
The festival begins with the melodrama "Trace of Love" by director Kim Dai-seung, who gained critical acclaim for his previous works including last year??s hit thriller ``Blood Rain'' and the 2000 gay-themed melodrama "Bungee Jumping of Their Own''.
"Crazy Stone,"' a low-budget comedy written and directed by Chinese director Ning Hao, has been selected as the festival's closing film.
Sources: Korean Media