The 17th Vietnam Film Festival kicked off at the Sao Mai Theater in Tuy Hoa City in the central coastal province of Phu Yen, evening of December 15.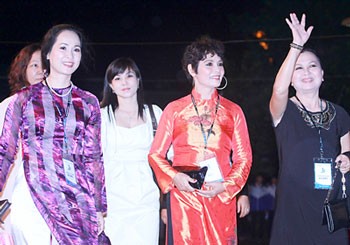 Veteran actresses Lan Huong (L), Minh Chau (C) and Thuy Lien(R) on the red carpet  (Photo: Sggp)
Hoang Tuan Anh, Minister of Culture, Sports and Tourism and Head of the Steering Committee of the Film Festival and Huynh Vinh Ai, Deputy Minister of Culture, Sports and Tourism and head of the event's organization board, together with provincial leaders and hundreds of artists attended the opening ceremony.
Guests walked on a 170m-long "road of light" which led to the red carpet in front of the theater, and enjoyed traditional music performances and special cultural shows along both sides of the "road of light".
Earlier leaders from the Ministry of Culture, Sports and Tourism and from Tuy Hoa City, visited and offered flowers at the Nui Nhan Monument of Heroic Martyrs in the morning, accompanied by many of the artists.
In addition, an exhibition featuring more than 230 posters of films and artists that have won awards in previous film festivals also opened on the same day.
The festival will present cinematographic works to compete in various categories such as movies, videos, documentaries, science and cartoons for the Golden Lotus Award.
A series of activities such as seminars on movies, the film market, a gala evening and exchanges between filmmakers and audiences will take place during the festival.
The first ever Vietnam Film Festival was organized in 1970 and has subsequently been held every two to three years. The most coveted prize at the festival is the Golden Lotus Award.
The event will run until December 17.