The event includes main activties, such as a festival of local ethnic minority groups, acoustic music performance, the selfie moments program for Young people, a night of moonlight on the pink grass field and others.

There is also a photo exhibition featuring 40 pictures of pink grass which were selected from thousands of photos taken by photographers of the Amateur Dalat Club in five years, including Dang Van An, Vo Trang, Nguyen Tat Thang, Nguyen Trong Bao Toan and Thanh Thuy.
The festival aims to promote pink grass, a kind of wild grass which naturally grows in pine forests in Da Lat, and raise the people's awareness of natural landscape protection.
In the end of the year, the wild grasses begin to bloom covering immense pine forests, its pink color mixing in a little bit of violet really attracts tourists when travelling in Da Lat.
"Da Lat Pink Grass Festival 2017" is part of the activities of the 7th Da Lat Flower Festival.
The event will run unril December 3.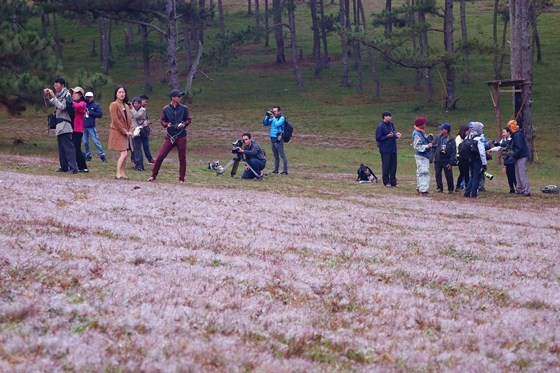 The event attracts a large number of visitors to take photos.