The Archaeology Institute and the Khanh Hoa Museum have unearthed thousands of artifacts from 2,000-2,500 years ago at the site of the ancient village of Vinh Yen in the south-central province.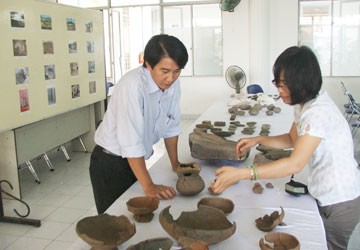 Some of the thousands of artifacts excavated in Khanh Hoa belonging to a people who lived more than 2,000 years ago
Archaeologists found 2,000 stone objects, including tools like axes and graters, 24 metal objects like bronze bells and coins and iron nails,190 ceramic bowls, vases, pots, and jars, and more than 10 tons of pottery.
 
Among the more important findings were a lingam – the phallic symbol of the Hindu god Shiva -- made of rock crystal, moulds for casting bronze and iron objects, and jewelry.
 
There are also six tombs and 17 graves that reveal ancient burial practices.
 
After preliminary studies, the archaeologists determined that the ancient inhabitants who left the artifacts lived 2,000-2,500 years ago during the end of the Neolithic period and early Bronze Age.
 
Dr. Tran Quy Thinh, the leader of the excavation group, said the discoveries contribute significantly to knowledge of prehistoric development in the southern part of the central region.
 
The findings reveal that the ancient people in Vinh Yen did not only live separately in the easternmost part of the country but also worked and interacted culturally and technically with people living along the Mekong and Dong Nai Rivers and in Phu Yen, Quang Ngai, and Binh Dinh.
 
The site was excavated for the first time in 2006 and again from July to December in 2009.