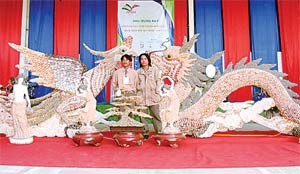 the award ceremony
The "Golden Hands" award of the Vietnam International Handicraft and Gift Fair 2006 was given to Nguyen Kim Chung for his huge model of a dragon and phoenix flying in the sky.
The winning model is made from more than one million shells from a total of 100 different snail species and as many variations of color. The dragon and phoenix are each more than two meters in height, five meters in length and weigh in at 1.2 tons apiece.
Chung teamed up with 6 other designers to make the models in a record time of two months.
The annual fair is alternately hosted in Ha Noi and Ho Chi Minh City. It provides a snapshot of the different crafts unique to "trade villages" scattered throughout Viet Nam and promotes local trade and tourism in those regions. The fair boasts more than 100 stalls representing these villages nationwide, including Ha Noi, Ha Tay, Vinh Phuc, Vinh Long and Binh Thuan.
In Ha Noi, the fair was organized by the Vietnam National Trade Fair & Advertising Company- VINEXAD in collaboration with the Sai Gon Giai Phong Newspaper.