Vo Thien Thanh's Chuong Gio (wind chimes) sung by Thu Minh won the Bai Hat Viet Award for the best Vietnamese song of 2006 at Hoa Binh Theatre in Ho Chi Minh City last night.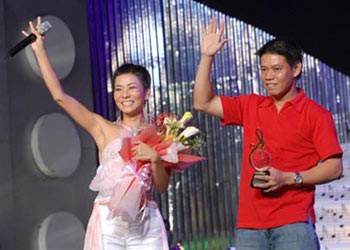 Singer Thu Minh and musician Vo Thien Thanh at the award ceremony.

Also in Viet Nam Television's music awards for last year, Gieng Lang (village well) by Le Minh Son was voted the Best Contemporary Folk Song and Sang Nay (this morning) by Luu Ha An the Best Contemporary Pop-Rock Song.
Thanh Phuong and Minh Dao won the Best Sound Mixer awards for their work on Sang Nay and Gieng Lang.
The Most Impressive Musician award went to the rock band Gat tan day (tray full of cigarette ash) for Dam Cuoi Chuot (mouse wedding).
The award for contributions to music was given to 71-year-old Le Tinh, author of the folk song Ngoi Hat Mua Dong (sit and sing in the winter).
Van Phong, 20, scored the Most Promising Musician award for his song Giac Mo Mang Ten Minh (dream in one's own name).
The Most Popular Song was Thanh Tam's Them Nha Co Hoa (bouquet on the veranda floor) as sung by Hai Yen.
The duo of Ha Anh Tuan and Phuong Linh, who won the most recent Sao Mai Diem Hen singing competition, received the Most Popular Singer award for their rendition of Manh Quan's Thien Duong Goi Ten (heaven of love).
Ha Dung's Niem Hy Vong (hope) sung by Ho Quynh Huong won a special prize from the Vietnamese Musicians Association.
Hai Nguoi Linh (two soldiers) written by Tran Van Toan and sung by Anh Khoa, who won the Most Popular Singer prize in the Sao Mai contest, was chosen by the Military Arts and Culture University as the best song about military life.