"2007 Trans-Asia Bridge Span" and "July Gratitude" festivals will be held in Quang Tri Province from July 24 to 30.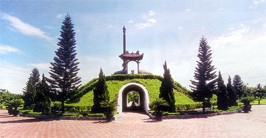 Quang Tri ancient citadel
The show is one of a series of festivals held in the province that celebrate important events throughout the year, others include the 100th Anniversary of late Secretary General Le Duan's birthday, the 35th Anniversary of Quang Tri's Liberation and the 60th Anniversary of Dead and Wounded Soldier Day.
The festival features numerous cultural activities such as musical performances, photo exhibitions, a food fair, volleyball and tennis competitions, "Quang Tri: Integration and Development" conference and an international expo with nearly 500 display booths from Vietnamese and foreign companies.
The event will involve the participation of art troupes and enterprises from across the nation and from Thailand, Laos, Myanmar, and China.
The province's tourism department will be offering several tours to historical and tourist sites such as Khe Sanh, Ta Con, Truong Son Martyr Cemetery, Quang Tri ancient citadel, Hien Luong and Ben Hai Rivers, Vinh Moc Tunnel and Cua Viet Beach. Visitors will also have the opportunity to take part in one-day overland tours linking Viet Nam with Laos and Thailand.
This is the second "Trans-Asia Bridge Span" festival; the first was in 2004. It is a good opportunity for the host province to introduce its economic progression, culture, society and tourist attractions to local and foreign visitors and investors.