The 4th Music Achievement Awards returned to announce winners of the 'Album of the Year', 'Composer of the Year', 'Singer/Band of the Year' and 'Live Show/TV Program of the Year' for the awards party at Saigon Opera House March 11.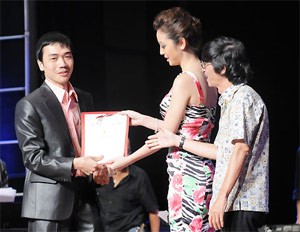 Composer Do Bao (L) pockets two prizes from the 4th Music Achievemnet Awards
The 'Album of the year' award was a race between 'Bong toi ly ca phe' ('The coffee cup in the darkness') by Le Thanh Hai, 'Canh cung 2 – Thoi gian de yeu' ('Bow back 2 – Time to love') by Do Bao, 'Kiep nao co yeu nhau' ('Until when will we fall in love with each other') by Duc Tuan, 'Tran Tien' by Ha Tran Productions and 'Tro lai' ('Return') by My Tam.
The winner is 'Canh cung 2 – Thoi gian de yeu'.
As for 'Composer of the year', the name 'Do Bao' was announced yet again as the winner. He triumphed over his rivals to pocket the highest honor.
The singer My Tam knocked off Ho Ngoc Ha from her pedestal, and took the top prize.
The 'TV Program of the Year' went to 'Bai hat Viet' ('Vietnamese songs'), co-produced by Cat Tien Sa Co. and HCMC TV.  
Other nominees this year were 'Con duong ta di' ('The street we walk on') by Phuong Nam Film, 'Chuyen tinh yeu' ('Love story') by Quang Dung, 'Unlimited Symphony' by the rock band Unlimited and HCMC Music Conservatory.
The Music Achievement Awards is organized by 'The Thao & Van Hoa' ('Sports & Culture') Newspaper, Le Bros Co. and Vietnam Multimedia Corporation. The annual awards debuted in 2006.