The '2012 Korean Food Festival' will be held at the Big C Supermarket in Hanoi from June 25-27 to celebrate the 20th anniversary of the establishment of diplomatic relations between Vietnam and Korea.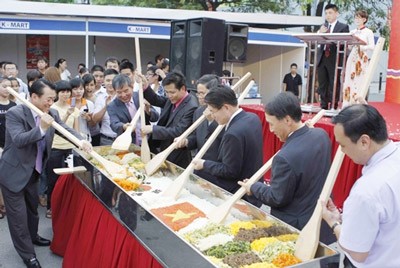 Making bibimbap (mixed rice) for 100 gastronomes
The event is one of the activities of the 'Globalization of Korean Food' project for promoting Korean food throughout the world. The festival will present to the Vietnamese people a vast variety of Korean traditional dishes, and agro and aqua products.
The event also features a series of cultural activities such as cultural exchanges between the two countries, art performances, and traditional martial arts demonstrations.
On the other hand, making of bibimbap (mixed rice) for 100 gastronomes will be one of the highlights of the festival.
Korean and Vietnamese scientists have joined hands to study scientific subjects related to bio-energy and safe organic vegetable growing technology in Vietnam.
A US$2.6 million project to grow safe organic vegetables has kicked off in the northern provinces of Hai Duong and Hoa Binh.
The food festival in being co-organized by the Korean Cultural Center in Vietnam, the Korean Agro-Fisheries & Food Trade Corporation and sponsored by the Embassy of the Republic of Korea in Vietnam.