Phu Tho people's committee yesterday announced at press meeting that Hung King death anniversary which falls on lunar March 10 and Hung Temple festival 2015 will be taken place from April 23 to 28, 2015.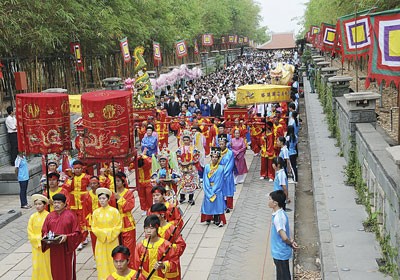 Hung King Temple's Festival in thhe HCMC Historical and Cultural Park in District 9 (Photo: Sggp)
A wide range of folk cultural activities and sport games, such as worship and ritual offerings commemorating the Hung Kings, art performances, food fairs, will be organized in Viet Tri, capital of Phu Tho Province and the Temple of the Hung Kings and in adjacent areas during the event.

The festival will open with a special art performance at Hung Vuong Square in Phu Tho Province's Viet Tri City and be broadcasted live on Vietnam Television's VTV1 channel at 8 p.m. on April 24.
A high-range firework display will be held in the closing ceremony.

Phu Tho Province, the organizer of the death anniversary of the Hung Kings, will cooperate with provinces, including Son La, Phu Yen, Dak Nong, Tien Giang and Bac Lieu to give a special day paying tribute to the country's founders.