The 2017 National Press Festival themed "Vietnamese press accompanies national renewal" opened at the House of Journalists Association in Hanoi on March 17.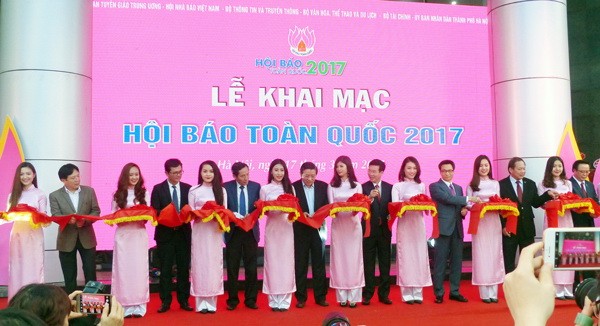 At the ribbon-cutting ceremony of the event.
Attending the opening ceremony were Politburo Member, Secretary of the Central Party Committee, Head of the Central Committee for Propaganda and Culture Vo Van Thuong; Deputy Prime Minister Vu Duc Dam and other leaders.
The event attracts more than 900 media companies and 280 journalist associations throughout the country.
The festival includes a lot of activities, such as exhibitions on press and media training, hi-tech products and press machines; an exhibition of 500 objects and materials featuring women and female reporters; meetings between journalists and press agencies; a seminar on journalists' ethics in the digital era.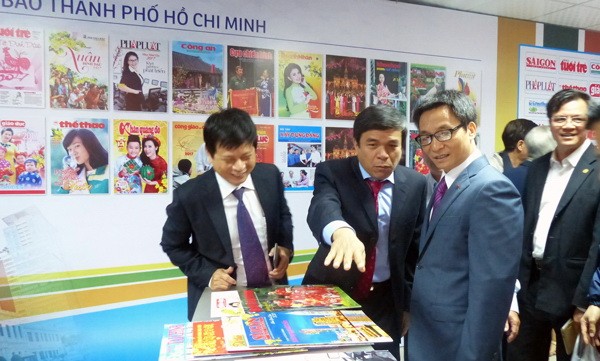 Deputy Prime Minister Vu Duc Dam visits the display booth of the Ho Chi Minh City Journalists' Association.
The National Press Festival 2017 aims to celebrate the great achievements of the Vietnamese press, to promote the press products associated with the labor and creativity of journalists throughout the country.
The event is organized by the Vietnam Journalists' Association, the Party Central Committee's Commission for Communications and Education, the Ministry of Information and Communications, the Ministry of Culture, Sports, and Tourism and the Hanoi People's Committee. It runs until March 19.