Entering the museum, visitors are welcomed by some huge paintings. 225 artistic works including 173 paintings, 52 sculptures, selected from the National Art Exhibition 2005, are displayed on the two floors in the Art Museum in Ho Chi Minh City. This cultural event was organized to welcome the Reunification Day and the successful Party Congress.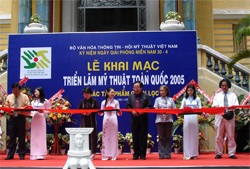 Mr. Le Tien Tho (4th, R) cuts ribbons at the exhibition (photo:U.Phuong)
The exhibition reflects all aspects of artistic activities of Vietnamese Art in the early 20th century when the "open-door" policy was underway. The artists tried hard to keep pace with international trend.
The most impressive paintings of the exhibition are a series of four drawings about "Tradition of aggressor resistance and the turning points of Viet Nam's history" of artist Nguyen Duy Nhi on woodcut.
Some other paintings such as "Across mountain and forest" of artist Pham Hoang Van on lacquer, "Uncle Ho by the Lenin Stream' of Le Huy Trap, drawn with pencil, attracted art lovers' attention.
Deputy Minister of Culture and Information Le Tien Tho, two Deputies Director General of Fine Art and Photography Department, Ministry of Culture and Information (MOCI) Nguyen Phu Cuong and Vi Kien Thanh, representatives of Culture and Information Departments and museums, art students and lovers attended the exhibition.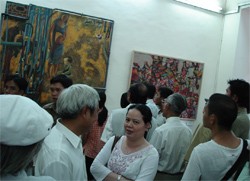 Many art lovers watch paintings attentively (photo:U.Phuong)
The exhibition lasts from April 26 to May 15, 2006 at the Art Museum in Ho Chi Minh City.


The national art exhibition 2001-2005 is an important event of Vietnamese artist circles. 2.970 artistic works including paintings, graphic art works and sculptures of across the country were sent to the organizers. The Art council selected 737 typical works to exhibit in Ha Noi and awarded three gold, eight silver, 11 bronze medals and 30 consolation prizes to artists. In addition, Sweden - Viet Nam Cultural Development and Exchange Fund granted prizes to another 13 works of art.
Among 2145 artists, eight are over eighty years old; the youngest is 18; 99 are female and 16 are from ethnic background.