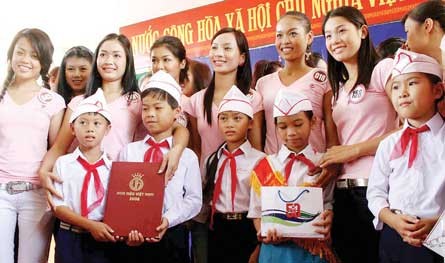 30 contestants give presents for students at Nguyen Phan Vinh Primary School
Yesterday, 30 contestants from the 2008 Miss Viet Nam competition took part in the "Miss Friendly" contest where the contestants performed charity activities for disadvantaged people.
The 30 contestants attended the ceremony for the initiative to build a primary school named Nguyen Phan Vinh funded by the Bank of Investment and Development Viet Nam (BIDV) in association with the organization board of Miss Viet Nam. In addition, the contestants went to the martyr's cemetery located in Dien Ban District where they visited and gave presents to 10 hero's mothers.
They also visited an orphanage and interacted with the children there, met with seriously wounded soldiers in the Dien Ban, Que Son Districts and Hoi An City of the Quang Nam Province.